Unleashing both your and your dog's true potential
How I Can Help
CARAT™ Assessments. We guide you to understand your dog from his perspective. Then we can match your dog's character traits with his preferred job and most-effective training method. We also screen a dog you're considering adding to your family to help you get a good match.
Therapy Dogs.  We provide training, assessment, and consultation to volunteers, therapists, and facilities.
About Ann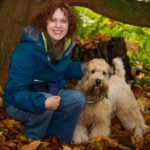 Ann R. Howie, the founder of Human-Animal Solutions, PLLC, is a Licensed Independent Clinical Social Worker (LICSW), Certified CARAT Assessor (CCA), and Certified Canine Fitness Trainer (CCFT) who is passionate about enhancing the well being of dogs and their people. For more than three decades, she has worked with both humans and dogs in a variety of ways – from animal-assisted therapy to professional dog training to canine wellness. With a sense of humor, a calm demeanor and lots of encouragement, Ann shows her clients how to live healthier, happier lives themselves and with their canine companions.