Please schedule your appointments by calling 360-493-2586.  Feel free to leave a detailed message at any time.
Depending on your circumstances, here are some forms that canine fitness clients may need to complete and provide:
You have several ways to get completed forms to me:
You may e-mail completed forms to me at GetFit@DogsinActionOlympia.com.
You may FAX completed forms to 360-455-1318.
You may mail them to 3929 Martin Way East, Suite E, Olympia, WA  98506.
Take a peek at the fun you and your dog can have at Dogs in Action: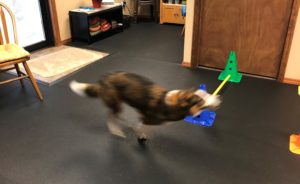 Nora practicing "come!"
Serenity deciding that chairs were more fun than the floor!