Ann R. Howie
Founder, Human-Animal Solutions, PLLC

Ann is a state and nationally licensed clinical social worker (LICSW, ACSW) and a Certified Canine Fitness Trainer (CCFT) who is passionate about enhancing the well-being of dogs and their people.
Ann has worked as a mental-health therapist since 1987, and in nearly every position she has incorporated animals as therapeutic partners.   She recognizes and lives the power of the human-animal bond, including honoring the overpowering grief that can result from the loss of animal companions.
As a CCFT, she was trained through the University of Tennessee School of Veterinary Medicine in canine assessment, body mechanics, anatomy, functional movement, behavior, nutrition, and injury prevention and care. She is currently the only CCFT between Portland, Oregon, and Seattle, Washington.  Ann also has a certificate as a Canine Conditioning Coach.
For more than three decades, Ann has worked beside and trained dogs in a variety of ways.  In 1987, understanding the profound impact animals can have on our lives, she began integrating dogs into her human counseling practice.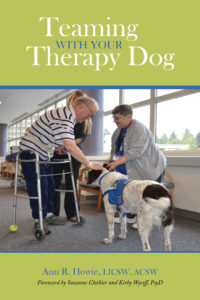 In 1990, she founded an animal-assisted activities and therapy program at a local hospital and was the national Director of Animal-Assisted Therapy Services at Pet Partners (formerly Delta Society®) from 1995-2000.  She is the author of three books about various aspects of animal-assisted interactions.  Her most-recent, Teaming with Your Therapy Dog, is being used as a text by many therapy-dog groups and trainers nationwide.  In 2018 she was named Director of the University of Denver's Canine-Assisted Intervention Specialist program.
In 2001, Ann began training dogs professionally using positive-reinforcement methods to shape behavior and help her clients meet their training goals.  She emphasizes the dog's point of view and helps their human partners see their world through a dog's eyes.  A member in good standing with the Association of Professional Dog Trainers (APDT), she regularly participates in continuing education to stay up-to-date on training theories and techniques.
Ann's work with animals has always focused on animal welfare and well-being.  She began working directly on canine physical wellness in 2017 after seeing the positive change fitness training had on her own dog, Gusto.  Not only did his body condition improve, he was having the time of his life overcoming challenges and learning new things.  And Ann was having fun, too, spending time with her dog and learning that he was capable of more than she ever dreamed.  It was then that she knew she wanted to bring this same type of mental stimulation, physical conditioning, and plain ole' fun to other dogs and their people.
Through Human-Animal Solutions, Ann provides individual mental-health therapy and consultation and training for therapy dogs and animal-assisted interactions.  Ann also helps with general canine behavior and training issues and provides referrals to other professionals as needed.
Ann focuses on compassionate and respectful handling of your and your dog's needs.  She creates a customized training plan that accommodates your and your dog's physical limitations and condition.  Because of her broad background and training, Ann is skilled with dogs of all shapes, sizes, and temperaments, and with people of diverse backgrounds and cultures.  Her sense of humor and calm, reassuring demeanor put both dogs and humans at ease.  At every step along the journey, she is there offering guidance, support, and encouragement to her clients and their dogs, helping them live healthier, happier lives together.
---